I haven't truly taken the time to blog much lately. When I have it's mostly been on the Islanders, articles, thoughts on games, etc. There'll be a little more of that in here today, but now I've got a few things to talk about! With that, let's begin.
-------------------
Saturday past, I went to
Henry's
for a gift certificate thing. You get there, line up, hope to get the $500 certificate and likely get $10. I got 10, as did most, but it was still a good laugh, and Henry's does have a VERY nice store. There's plenty of stock, although it is missing some small things, and it doesn't carry pre-owned stuff like many of their stores on the mainland. I did notice that they were slightly higher priced on many stock items. These aren't such a big deal however, knowing that this IS the place to go for camera buffs, combining their good stock and great knowledge base.
-------------------
My wife and I tend to frequent the
Avalon Mall Flea Market
each Sunday night. The summers can be very lean on variety and sellers, but when the fall comes, lookout. There are people and tables and stuff EVERYWHERE and it's quite the experience for someone who doesn't really go. It's a great place to find a deal on anything from crafts to collectibles. There are generally 3 major types of goods there. Hockey/sports collectibles, DVD/ Video Games, and books. The rest is a mish mash of crafts/ foods/ photography/ and junk.
There has been a predominent issue with a lot of the tables of late. They think they are a retail store, and price as such. Seriously though. For example, why would I pay $20 for a Nintendo DS game when I can buy that same DS game for 15 or 20 from EB Games or Microplay and get a warranty along with it? Many of these tables can be considered "fly-by-night" operations where they'll be there one week and not the next. If there is something wrong with the product, a scratch, a dead battery, etc. what will I do with it when I get it home? There's nobody to go back to reliably. Dvd's for 8 to 10 dollars, collectibles for even more. While I can appreciate wanting to get value for your things, this is essentially a GIANT GARAGE SALE. That game for $20 at EB? It should sell for $8-$10. That DVD for $10? Should be 3 dvd's for $10. It makes it almost not worth going anymore, as most of the stuff I can get there I can buy retail with the knowledge and comfort of knowing I have options should something be wrong with it. There's also the BIG fear that you may be purchasing stolen goods at the Flea Market as well.
--------------------------------------
I've started playing Fallout New Vegas in my spare time this past week. While I wasn't the biggest fan of Fallout 3, the game before this one, I still enjoyed it enough to pre-order this one. Anyway, the Fallout "universe" is a world approximately 100-125 years in the future. It's a barren wasteland after a nuclear war. The visual style and theme is something akin to 60's style advertising, right around the time of the cold war between the USSR and the USA. The people who survived the war are now nomadic and in many cases, insane ravagers. There are also "Vault Dwellers", who lived in underground vaults to protect them as the bombs fell.
I am enjoying this game quite a bit. The only flaw that I can see is that IT IS EXACTLY THE SAME AS FALLOUT 3. In many cases, the story is very similar. Even the graphical elements are all the same ones used from Fallout 3. There are little tweaks here and there, but seriously. Even the character building and development stuff is not only the same in the sense of how you do it, IT'S LITERALLY EXACTLY THE SAME, right down to the same graphics of "Vault-Boy" doing his thing to show what each skill means. The development team literally took the skeleton of Fallout 3, took all the elements, threw in a slightly different story, shook it all around a little, and put out a product with a different name on it. If you want a new experience in gaming, this isn't it. Luckily, Fallout 3 was a good game. So this, by default, is also good.
-------------------------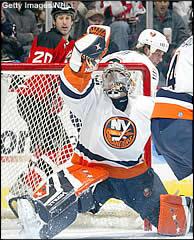 Given that I've had the true pleasure of watching most every Islander game this season, I feel confident enough in my analysis of the team to share some thoughts on them with what I have to say carrying a little weight.
So far this year, the Islanders are a far stronger, more aggressive team than they were last year. You can see a hunger in their play, and even a skill level that just wasn't apparent last year and the year before. Guys like John Tavares, Josh Bailey, and (though on a far lower scale ) Blake Comeau have elevated their games to a point to where they can carry a team. New Islanders such as Zenon Konopka, Milan Jurcina, and Mike Mattau are really contributing to a team that has taken them in.
As well, Garth Snow has really looked like a genius when it comes to reclaimation projects. Look at Matt Moulson and Rob Shremp from last year. Each contributed greatly to the development of the team. This year, look no further than P.A.Parenteau, who leads the team in points as of this date, and Micheal Grabner, who's speed has really added a dynamic flair to the team this year.
Goaltending, I feel, will be the biggest issue this team has this year. Rick Dipietro, in the 4 or 5 games I've seen him, just isn't himself anymore. We're seeing some of the signs of his former self, especially in Saturday night's game against the Panthers, but overall he has visibly been shaky compared to what a man of his considerable dollar value should be like. His biggest issue so far, from my eyes, has been a combination of really BIG rebounds (see game winning goal for the Panthers Saturday) and his inability to deal with traffic in front of the net effectively. He has made some really big saves (the Tampa game had a few) but has also coupled them with some real stinker goals. Dwayne Roloson, the defacto backup, has been solid, but he's done beyond this year, so the team cannot depend on him to be anything more than trade bait come the spring. If the Islanders do manage to make it to the playoffs, no matter how well Roloson is playing, Dipietro is the go to man. Roloson will not want to sit on the bench knowing he can contribute somewhere else. I know I wouldn't.
Another issue I've seen in the play this year has been the lack of puck control. Passes missing, too many turnovers, and all and all scrambly play. I mentioned it this past week after both the Maple Leaf and Lightning games, it feels like I'm watching PEE WEE hockey. The other teams (the Lightning in particular) have really made the Islanders look bad when it comes to puck control. Luckily, the Islanders have gotten a few bounces and calls in their favor, something that hasn't happened much in the past. These flaws in their game have been compensated for with their skill level and determination, but I don't think that it will last all year.
With their injuries to key personnel (Okposo, Streit, Shremp, and now MacDonald and Bailey) it's amazing how they've been able to skate with some superior teams. I watched the Caps game and even though it was obvious the Caps were a better team, the Islanders played them hard and made a real entertaining game out of it.
--------------------------------
So that is it for me for today. See you next time.
C