Here are the top 5 downloads of NHL Coleco Printable Players.
#5.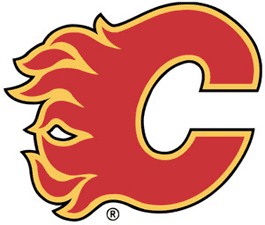 Calgary Flames
A classic Canadian Jersey.
#4.
Toronto Maple Leafs.
Much like the real life team, a disappointment. I figured these guys would be #1 or #2.
#3.
Vancouver Canucks
These guys actually tied with the Leafs.
#2.
Los Angeles Kings
The surprise team of the bunch. Who even likes the Kings? Gretzky doesn't even play anymore! :P
#1.
Montreal Canadiens
No surprise here. These guys were head and shoulders about any other team in this countdown.
Keep em coming! The teams are HERE FOR YOU. There is a huge table hockey following on the net, and far too many people are asking for far too much for these decals. Take em. I'm giving them away for free!
My Islanders aren't far off, in 7th place.
C